It's time again!!! For Whoo Are You at
Night Owl Crafting
. See, there's a button to prove it!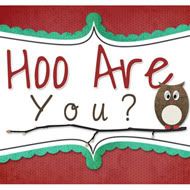 Go there, get your questions, answer 'em on your blog, link back, then visit everyone on the list and make new friends!!
Here are this week's questions!
1. Have you ever had a professional massage before?
Yes, once, when I was pregnant. I didn't like it so much. Maybe it was because I was not relaxed or very comfortable with the lady, who knows. If I could pay for JUST an arm massage, though, I'd be there for sure! There's nothing I like more than my arms and hands being massaged!!!
2. When drinking bottled water do you have a preference on which brand you drink?
Whatever's there. One of em makes my mouth seem dryer, though. I think it's the kind with the red label. I could be wrong, though.
3. What is your favorite kind of soup?
Homemade, canned, or restaurant? :D Homemade, there's nothing better than my Mama's chicken noodle. Canned, I like the steak kinds in the blue can. Restaurant, you can't beat Olive Garden's Gnocci soup. You just can't. I'm sorry. IT.IS.THE.BEST.
4. Do you have a preference on which Kleenex brand you use?
I used to really like the Kleenex with menthol in it, but one time I got some from a store that had their Kleenex next to the garden center, so it picked up that manure scent. GAG and a half!!!! Kleenex is a luxury at our house, though. We usually just use toilet paper. I have a two year old. Does that explain things?
5. What is your favorite breakfast food?
Considering breakfast food IS my favorite food, that's really hard!!! I love breakfast burritos, hole in one, Sweet Potato waffles, sausage, bacon, quiches, etc. However, if I had to pick ONE favorite- it would be Swedish Pancakes. YUM!!!! Especially with peaches or strawberries or nutella. Topped with cool whip and powdered sugar. Hmm.... maybe that's what we'll have for dinner tonight since strawberries are on sale....